Based in the Netherlands, Duport Bv is a European leader in manure and fertiliser application equipment. Over a number of decades Duport have built a reputation for offering its customers a unique range of the highest quality application equipment.

Manterra are proud to supply the Duport Liquiliser spoke wheel liquid fertiliser injection system. Practical experience of this machine built up over many years gives us total confidence in the machine and the technique as a root to improved fertiliser application efficiency.
August Product of the Month:
Duport Liquiliser, P.O.A - available in widths from 1 to 15m according to requirements.
The Duport Liquiliser has been developed to enable the accurate injection of high performance liquid fertilisers, enabling efficiency improvements. The Liquiliser is made up of a solid frame, with stainless steel spoke wheels with hollow pins that enable the fluid to be injected at the correct depth, be that fertiliser, insecticides or other solutions.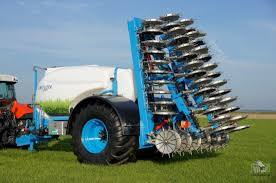 Its features enable:
  An effective injection method
  Minimal soil disturbance
  Accurate Distribution
  A reduction in weed establishment

For a Full Catalogue of Duport Equipment please follow the link below: